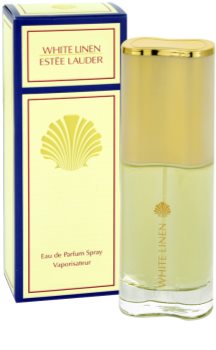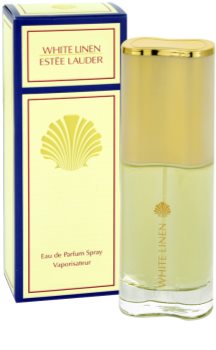 Kod:

EST0215
|
Mer än 20 st finns i lager
Use the code minus10se in your basket to take 10 % off your whole purchase over 850 kr or more. This code does not apply to items on special offer or in clearance.
GLS (Schenker) - 4 dagar till södra delen av Sverige
Parfym beskrivning

Estée Lauder White Linen
Estee Lauder White Linen is a delicate floral women's fragrance full of purity and freshness. It opens with a pleasant combination of lemon oil, peach and aldehyde scents. Then it turns into enchanting floral notes consisting of rose, jasmine, carnation and heady lilac. Sandalwood and cedar wrapped in sweet honey make White Linen sensual.
Envelop yourself in a scent that is reminiscent of a soft and velvety smooth scarf. Estee Lauder White Linen is for all women who would like to feel fresh and filled with joy of life. It is suitable for hot summer days intertwined with warming sun rays.
Relax and be sensually beautiful and yourself. Estee Lauder White Linen is full of femininity and elegance. It will drape you in an aura that radiates endless energy and purity. Be happy and full of enchanting joy of life. Estee Lauder White Linen embodies sensuality, elegance, natural beauty and personal charm.
Komposition
Aldehyder, Citron, Persika

Hyacint, Jasmin, Liljekonvalj, Nejlika, Orkidé, Ros, Syren, Violett, Ylang-Ylang

Benzoin, Bärnsten, Cederträ, Honung, Sandelträd, Tonkabönor, Vetiver

Doftkategori

aldehyd, blommig
Om märket

Estée Lauder
Estée Lauder fragrances | Estée Lauder beauty products - This world-renowned brand bears the name of its founder, American Estée Lauder (née Josephine Esther Mentzer) who started out with only four basic products which she sold in New York hotels and beauty salons.
The brand's philosophy is really quite simple - any woman can look amazing. However, for Estée it was equally important to show women how to maintain their beauty despite ageing. That's why she employed beauty consultants to teach customers how to take care of their skin. Before long, her company became an international enterprise with products available in more than a hundred countries.
Fragrances, mascaras, foundations and other Estée Lauder products contain luxury ingredients, such as microscopic particles of precious stones. Estée was also the first in the world to discover the beneficial effects of glucosamine on dead skin cells, and many of the brand's technologies have been patented.
Estée Lauder is a very popular brand among celebrities like Jennifer Lopez, Gwyneth Paltrow or Karen Graham. Customers love especially the Advanced Repair Night treatment, a product that received the Allure Best of Beauty award in 2007 and is to this day the bestselling product of the brand.
Estée Lauder is sure to satisfy anyone who likes treating themselves every day to a little bit of luxury, anyone who desires a youthful, attractive look, and any fan of high-end makeup products.
Recensioner

Estée Lauder White Linen
Lägg till en ny recension
Ingen har betygsatt denna produkt än, var du först!