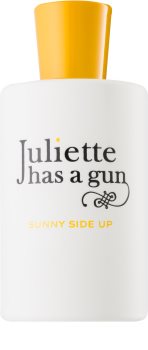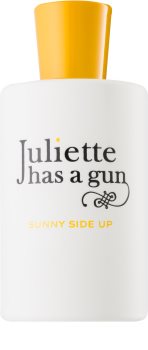 Kod:

JHG1485
|
Mer än 20 st finns i lager
Use the code minus10se in your basket to take 10 % off your whole purchase over 850 kr or more. This code does not apply to items on special offer or in clearance.
GLS (Schenker) - 4 dagar till södra delen av Sverige
Parfym beskrivning

Juliette has a gun Sunny Side Up
Eau de Parfum Juliette has a gun Sunny Side Up för en naturlig skönhet, femininitet och elegans. Den perfekt uppmuntrar din naturliga charm och ger dig en naturlig sofistikerad utstrålning.
blommig-trä doft
för en modern självsäker kvinna
för daglig bruk
Komposition
Irisrot, Jasmin, Kokosnötsmjölk, Sandelträd

Doftkategori

blommig, träig
Om märket

Juliette has a gun
The Juliette Has a Gun fragrance is inspired by the work of William Shakespeare, but the renowned renaissance romance gains a modern slant in this case. The brand concept symbolises independence and freedom, giving women an imaginary weapon allowing them to stand up to men in the age-old battle of the sexes, passion and love.
Juliette Has a Gun is the work of Roman Ricci, the grandson of the famous fashion designer Nina Ricci, whose perfumes have swept the world. The new generation of this family burst into the beauty world in 2006, fearlessly breaking the rules of modern perfumery. Juliette Has a Gun Not a Perfume drew attention with its single element – Ambroxan.
The designer bottles, outstanding concept, the main creator's personality and the overall image make the Juliette Has a Gun perfume brand a distinctive platform for women who have high self-esteem and are not afraid to be provocative, and yet are still very much real women.
Recensioner

Juliette has a gun Sunny Side Up
Lägg till en ny recension
Ingen har betygsatt denna produkt än, var du först!